As parents, we want our children to have the tools they need to succeed. We are their strongest advocates in the early years, working hard to ensure they're healthy, strong, and happy. And that includes providing a pair of glasses if they're having challenges seeing the world around them!
Parents need to be especially mindful of children's visual health when they are younger, and cannot fully communicate what they see.
Mom and Dad may have difficulties determining if their kids are experiencing vision problems, so it's always best to call in the experts when it comes to eyesight.
At Discover Eyecare, we recommend monitoring your child's visual health early. And don't just take our word for it –The Canadian Association of Optometrists (CAO) strongly suggests a child's first eye exam happens between 6 and 9 months old!
If you think your child may need glasses, have a look at these common signs of vision problems in children, but remember, your child's routine eye exam is the best way to determine their overall eye health.
Signs Your Child May Need Glasses
We've put together a few signs that may indicate a vision problem in children. If you notice any of these symptoms, contact your optometrist. They can help you decide the best course of action and determine if your child needs glasses. Watch for:
Staying on top of your child's routine eye exams can help families identify and address vision problems, allowing for healthy and happy eyes in the future. If you suspect that your child has difficulties seeing clearly, contact your optometrist for an appointment.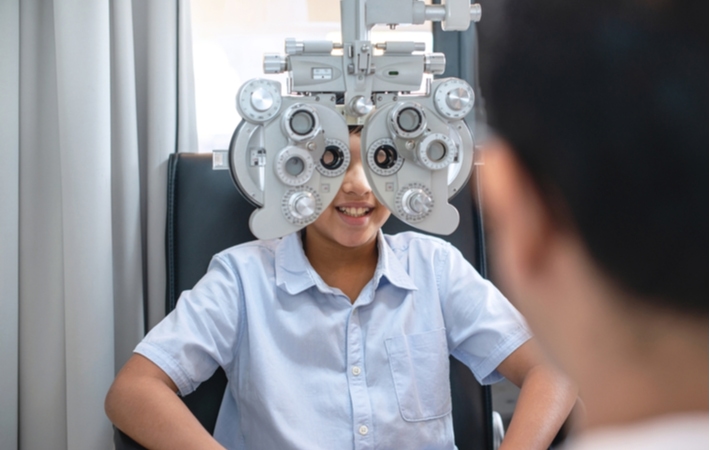 Your Child's Eye Exam
Children grow up quickly, and their eyes grow right alongside them. As they develop into young adulthood, children should reach several developmental milestones involving visual health.
Our youngest patients can achieve healthier vision by having regular eye exams at each stage in development, and especially as:
Your eye care team has many details to consider when determining if your child needs glasses. At your child's eye exam, your optometrist assesses the sharpness and clarity of their vision, and looks closely for many eye conditions, such as:
At Discover Eyecare, we want to ensure that your child's eyes are as healthy as possible, and our children's eye exams should include assessing multiple signs of a fully-functioning visual system.
Our eye care team looks closely for:
School-Aged Children & Routine Eye Exams
Healthy eyesight is essential at every age, but it's particularly vital to pay close attention to your child's vision throughout the school years. Eyeglasses may be an invaluable resource to ensuring your child's lifelong love of learning.
Undiagnosed vision problems can lead to frustrations and challenges; when children can't see or fully experience what's happening in their classroom, especially if they're struggling to focus on desk work and avoid reading, it can impact many areas of their lives.
Undiagnosed vision problems in the school years can often share the same symptoms as ADHD (Attention Deficit Hyperactivity Disorder). Staying on top of your child's eye exam schedule, and a prescription for eyeglasses may help reduce the stress of a misdiagnosis.
The Path to Healthy Vision
Parents are the eyes and ears of their optometrists at home, and know their children best. If you're concerned that your child may have a vision problem, and suspect they need glasses, contact Discover Eyecare for an appointment.
Your children deserve high-quality care and treatment, and our team works hard to ensure that our tiniest patients leave with healthier, happier eyes.