Rubbing your eyes can sometimes feel involuntary, especially in response to irritation, itchiness, or a gritty feeling. Rubbing your eyes when you wake up in the morning is typically okay. If you're doing it more often throughout the day, it's time to visit your eye doctor.
An eye exam can help in determining the cause. They aren't just for ensuring up-to-date prescriptions but also for helping to discover eye conditions early.
Rubbing your eyes can provide temporary relief for a moment by aiding in removing the irritant and stimulating tears. But sometimes, there might be other underlying causes that require addressing.
Regardless of the cause, did you know that rubbing your eyes is bad for you? Read on to find out why and what you can do to stop.
What Causes Eye Rubbing?
Only when you know the reason for your rubbing can you do something about it. So, here is a list of the common causes of eye rubbing:
Allergies: Allergens in the eyes from seasonal or environmental allergies can cause itching that leads to eye rubbing.
Contact lenses: Wearing the wrong lenses, fit, or material type can cause irritation and itching.
Dry eyes: Common symptoms of dry eyes are burning, itching, and grittiness.
Infection: Blepharitis and conjunctivitis or pink eyes cause eye inflammation, irritation, and itching.
Digital eye strain: Symptoms of digital eye strain include eye irritation, blurred vision, and excessive tearing that can lead to eye rubbing.
Cold, flu, or sinusitis: All of which can make your eyes itch.
Eye Rubbing Can Damage Your Eyes
Eye rubbing could be a habit, or when done unconsciously, it can cause damage to the eyes. Here is what happens when you rub too hard and too often:
Damage the Cornea
Rubbing your eyes when there is an irritant or the feeling of a foreign object may seem like the tears are flushing them away. But these microparticles rubbed on the eye's surface scratch the cornea, also known as corneal abrasion.
Corneal Thinning
Frequent eye rubbing can lead to corneal thinning and the breakdown of collagen fibres in the eye. As this occurs, the cornea weakens and changes from round to a bulging cone shape. The condition is called keratoconus.
Eye Infections
If you're not washing your hands every time you rub your eyes, you are introducing bacteria and germs. Continuous rubbing that leads to scratched or inflamed eyes is more susceptible to infections.
Worsen Pre-Existing Eye Conditions
Eye rubbing can worsen certain eye conditions such as progressive myopia (nearsightedness) and glaucoma. Eye rubbing can induce progressive optic neuropathy with visual field damage similar to advanced glaucoma.
Releases Histamine
When you rub your eyes, they release histamine in response to an allergen. Histamine makes your eyes swell, red, and itchier and results in more rubbing.
Affects Your Appearance
Rubbing your eyes very hard can break the blood vessels in your eyes, causing them to look bloodshot. The skin around the eyes is very delicate, and contact eye rubbing can lead to wrinkles and dark circles.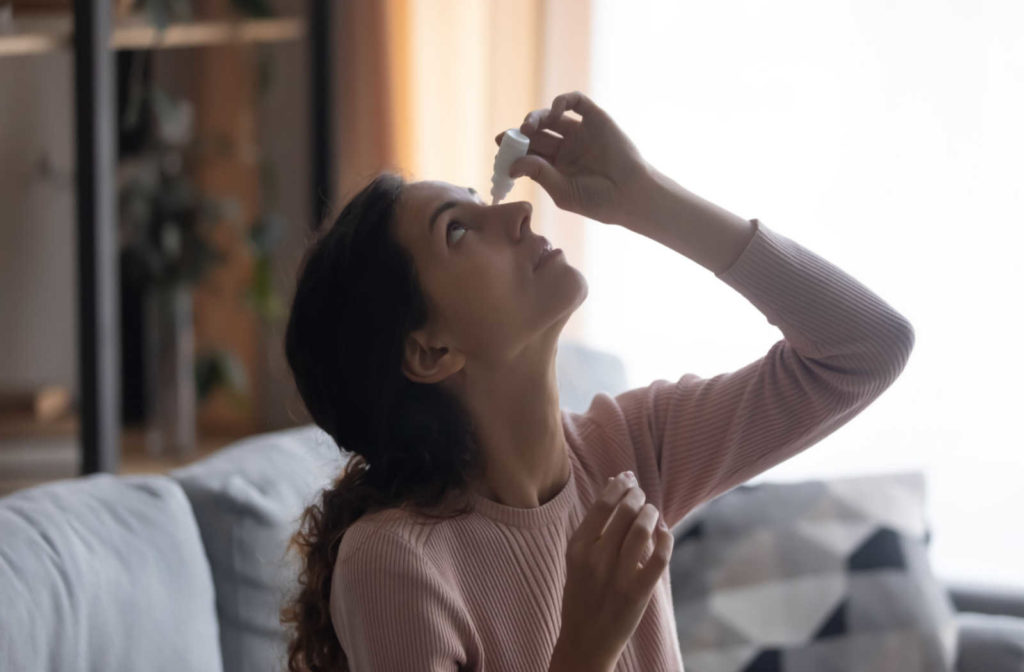 How to Avoid Rubbing Your Eyes
To prevent the damaging effects of eye rubbing, you have to determine and resolve the root cause of eye discomfort. Depending on the root cause, here are things you can do to avoid rubbing your eyes:
For treating dry eyes, you can use over-the-counter artificial tears or eye drops to flush out allergens and keep the eyes hydrated. Your optometrist can help create a personalized dry eye therapy treatment plan based on your symptoms and lifestyle.
To prevent infections, ensure your hands are thoroughly washed with soap and water and dried before rubbing the eyes. If you have to rub your eyes, use gentle pressure.
For allergies, use antihistamines or antihistamine eye drops. Prescription steroid drops may be an option for chronic eye rubbing.
For digital eye strain, take frequent breaks from looking at the screen, blink more often, and wear blue light-blocking glasses.
Decrease the Need to Rub Your Eyes
One thing is sure—rubbing the eyes causes eye irritation and can damage the cornea. So if you find yourself rubbing away to find relief, know there are ways to avoid it.
For symptoms such as irritation, redness, pain, and tired eyes, book an appointment with Discover Eyecare to determine what's bothering your eyes and find a solution that works for you.