Whether you prefer them for aesthetic reasons or simply just the freedom of not having to wear something on your face all day, contact lenses can be a great alternative to traditional eyeglasses for many people.
Even though contact lenses can be comfortable and easy to maintain, it's important to know about the potential for dry eye disease.
Dry eyes are a fairly common complaint among patients who wear contact lenses regularly. While dry eyes can also be a problem for people who do not wear contact lenses, the symptoms can be more noticeable and irritating for those who do. Burning, red eyes and eye fatigue are common symptoms.
What Is Dry Eye Disease?
Common eye problems, like dry eyes, can make you uncomfortable and even impair your vision.
Possible symptoms of dry eye disease include:
A gritty feeling in your eyes
Eye strain
Blurred vision
Stringy mucus in or around your eyes
Light sensitivity
Eye Redness
Meibomian Gland Dysfunction (MGD)
Fatty oils, aqueous fluid, and mucus are the 3 layers that make up the tear film. This combination typically maintains the lubricated, clear, and smooth surface of your eyes. Still, issues with any of these layers can contribute to dry eyes.
Meibomian gland dysfunction is a common eye condition that many people are not aware of—the most common symptoms are blocked oil glands and thickened oil secretions.
If left untreated, chronically clogged glands can lose their ability to secrete oil, resulting in changes in the tear film and chronic dry eyes.
What Causes Dry Eye Disease?
Many different circumstances can lead to dry eyes, including:
General health problems, like arthritis
Being in an air-conditioned room
Staring at a computer screen for several hours
Hormone changes
Inflamed eyelid glands
Antihistamines
Aging
Wearing contacts for long periods of time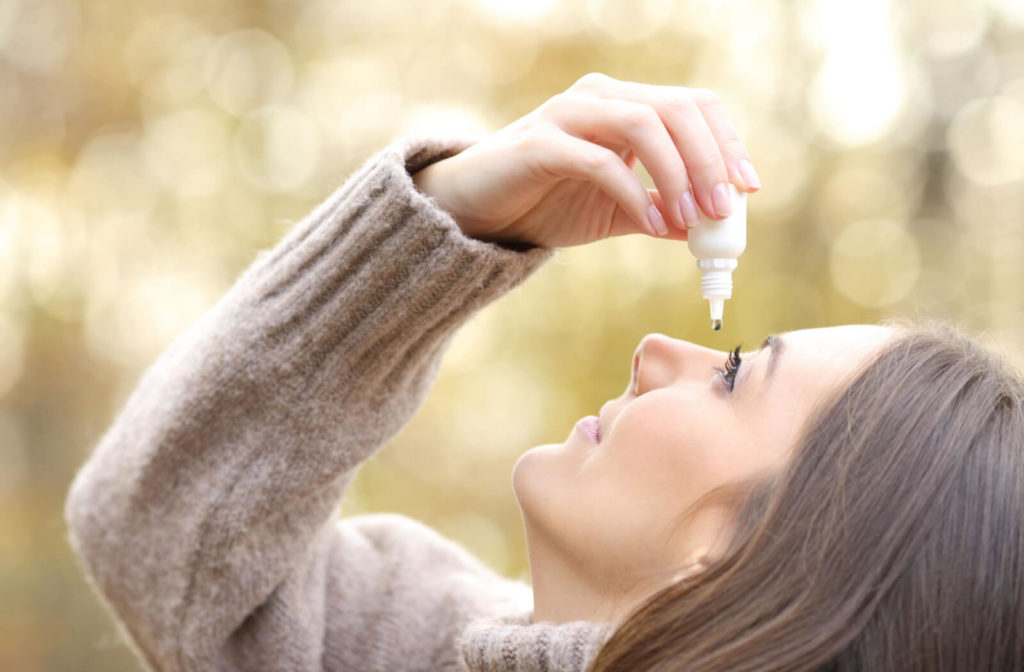 Dry Eye Caused by Contact Lenses
Contact lens wearers can be more prone to dry eyes because the contact lens on the cornea (the front part of your eye) can partially block oxygen from entering the eye.
Although many contact lenses are designed to allow more oxygen into the eye, wearers may still experience dry, gritty eyes, particularly at the end of the day.
The absorption of tears by contact lenses is another cause of dry eye, because liquid is needed for lenses to remain soft.
Tears in a healthy eye allow the contact lens to sit comfortably in the tear film above the cornea. A lack of fluid can cause gaps in the tear film, causing the contact lens to irritate the eye's surface. As a result, there is discomfort, redness, and irritation.
This effect can be magnified if the lenses are of poor quality or are not properly fitted to the eye. Contacts can absorb a lot of liquid from the tear film, causing the eye to lose important moisture.
Relief from Dry Eye Disease Using RF & IPL
Fortunately, your optometrist can provide many over-the-counter and in-office therapies to treat dry eye before it becomes a serious health issue. However, you should always consult with your eye doctor to determine which treatments are right for you.
Intense Pulsed Light Therapy (IPL)
Intense pulsed light (IPL) therapy combats meibomian gland dysfunction, inflammation, and abnormal blood vessels.
During IPL treatment, the eyelids receive intense pulses of light to help reduce inflammation. Each treatment takes about 20 minutes, and multiple treatment sessions spaced about a month apart are usually scheduled to achieve long-term results.
Radiofrequency (RF)
Radiofrequency treatment is traditionally used for cosmetic purposes to tighten the skin around the eyes. It's generally safe, minimally invasive, and appropriate for many skin types. The method is now used to also treat conditions like dry eye.
To treat dry eyes, radiofrequency can provide uniform bulk heating at an optimal temperature using a handheld device. The heat delivered during the procedure melts the oil clogging the meibomian glands, and the consistent pressure from the application movement allows for easy simultaneous gland expression.
Dry Eye Treatment at Discover Eyecare
Schedule an appointment with Discover Eyecare, and we can evaluate your dry eye symptoms and give you the information you need to treat the condition effectively. Additionally, we can make sure you're wearing the right contact lenses and that they fit properly.
Using dry eye management such as IPL and RF, we treat your symptoms to help improve your daily comfort.