When it comes to buying eyeglasses, it's important to look at the bigger picture. While bigger box stores may seem more convenient, they often aren't—quantity doesn't always mean quality!
An optometrist can focus on accuracy, quality, and convenience to help you find that glasses that are a perfect fit for you and your needs. Your optometrist's clinic may provide warranties and accept vision insurance, making the financial side significantly easier for you. And they're typically small businesses, which means you're stimulating your local economy.
Buying glasses can seem like a big commitment, but it doesn't have to be a hassle. Buying your eyeglasses from your optometrist means you can receive personalized care from a provider who knows you and your eyes best.
1. Their Expertise
Optometrists are extensively trained and experienced in the field of vision care. Through years of education, training, and gaining practical experience, they have the ability to factor in your visual needs and make personalized recommendations to help you see clearly. If you visit your optometrist regularly for comprehensive eye exams, they likely know your eyes well and can help you find a pair of glasses that's right for your specific needs.
2. Convenience
Buying eyeglasses from an optometrist offers convenience and efficiency. Instead of having to navigate through a series of options and papers, the optometrist will narrow down what you are needing, looking for, and save you a great deal of time.
Your optometrist can recommend specific technologies of lenses to suit your needs and can offer valuable insight and assistance for finding your perfect pair. They can also adjust and customize your glasses, making them an easy choice for convenience!
3. Prescription Accuracy
Your eyes are an incredibly complex system, and to see clearly, you must have the correct prescription. This is what optometrists specialize in! They have in-depth knowledge and specialized equipment to determine your prescription accurately, and ensure necessary alignment of lenses based on your needs.
They can fine-tune your prescription based on your specific visual needs for optimal vision correction, and explain what they're doing every step of the way.
4. Customization
Your vision needs are unique, and your eye doctor understands this. You aren't just a number to them—you're an individual with your own needs, and they're there to meet them.
An optometrist offers a wide range of customizable options for both frames and lenses. They offer many different styles for the frames, and different lenses and coatings technologies depending on your specific needs, which means you can work together to truly find your perfect glasses.
5. Quality Assurance
When you're purchasing eyeglasses from an optometrist, you can be confident in their quality. Optometrists typically are partnered with reputable manufacturers to provide durable, comfortable, and stylish frames, while the lenses are precisely cut for maximum clarity.
This commitment to a high-quality product is often overlooked in larger box stores, as they tend to order in bulk. This means that the lenses available at larger stores are often of a lower technology or quality, and they aren't unique to you.
For example, here at Discover Eyecare we avoid polycarbonate plastic for all our lenses. We use quality, technology-focused brains, like:
Essilor
Nikon
ZEISS
Hoya
And more
6. Warranties
Most optometrists offer warranty options for your eyeglasses, which can give you peace of mind, especially if you wear your glasses daily. If you accidentally damage them in any way, whether by scratching the lens or breaking an arm, you can have this problem amended quickly.
These warranties also tend to cover manufacturing defects or problems that occur before you even open the pair. This focus on customer care and satisfaction, plus the after-sale support you're receiving, makes an optometrist the obvious choice!
7. Insurance Options
When it comes to insurance of any kind, it can be easy to become overwhelmed with all the jargon. An optometrist is well-trained to deal with the intricacies of vision insurance and can streamline the process to make it simpler for you.
This makes it easier for you to use benefits from work or other insurance you may have to maximize your coverage when buying glasses. Their familiarity with some insurance providers and their procedures can make this process significantly easier for you.
8. Follow-Up & Post-Sale Care
One of the biggest advantages of buying from an optometrist is the availability of care after the sale is done. You aren't just a number to them—they genuinely care about your vision and want to make sure it stays clear and the glasses are giving you the clarity you deserve. You are their patient, and success in vision is important to your optometrist.
They can make adjustments after you've purchased the glasses to make sure they're comfortable and make changes to provide accurate vision correction. If you have issues with your glasses or second thoughts, your optometrist can address your concerns to make sure the glasses are truly a good fit for you.
9. Specialty Lenses
When it comes to eyeglasses, there isn't just 1 option for lenses—many different options exist with a variety of cuts and coatings. This can make it much more complicated to find out exactly what you need for optimal clarity. The different types of lenses can include:
Bifocals
Multifocals
Single-vision lenses
High-index lenses
Specially-coated transition lenses
These lenses each treat different vision problems, from astigmatism to cataracts, night glare, and computer glare. Your optometrist is trained to understand the benefits of each type of lens and has access to a variety of options to help you find the correct lens.
10. Supporting a Small Business
More often than not, your optometrist is a small and independent business that truly cares about serving their local community. Their passion and level of care can be hard to find in big box stores, and by purchasing glasses through them, you're supporting a small business and their mission. Supporting your optometrist ensures you receive in-depth service, and your appreciation for your eye can will remain in the community.
When you choose your optometrist as your eye care professional, you're also stimulating your local economy and supporting your community!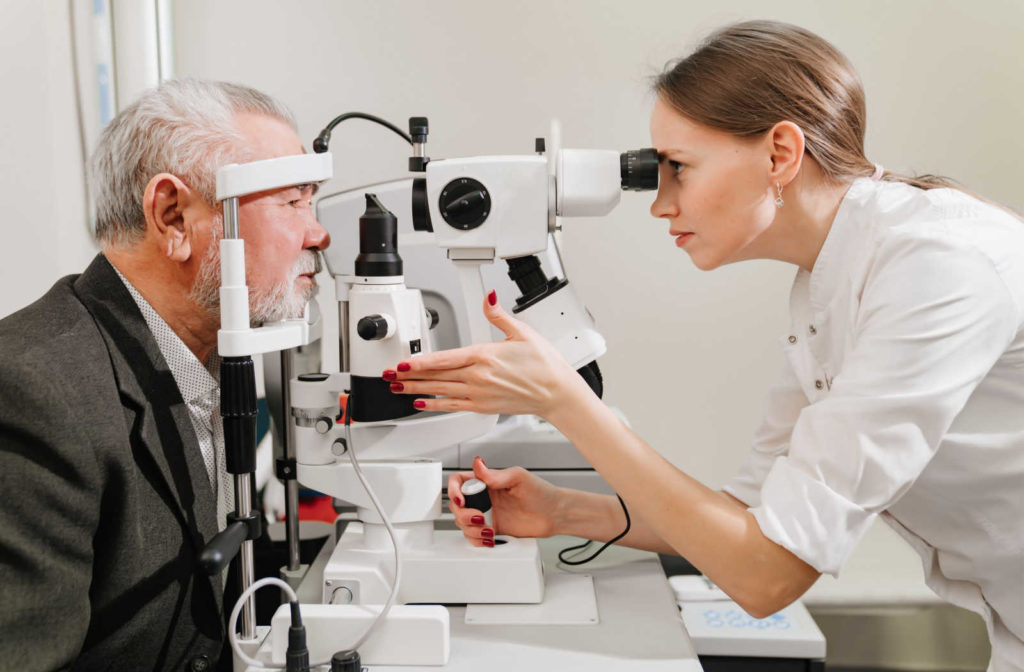 Where Is the Best Place to Buy Glasses?
Buying your eyeglasses from your optometrist offers advantages that go above and beyond mere convenience. While you may think a larger box store is easier, they simply can't compare with the level of service offered by smaller optometrists. No pair of glasses is exactly the same as another, so it's important that you get the perfect fit for yourself.
Here at Discover Eyecare, we believe that every person's vision needs are unique, and we take pride in our ability to meet them. To find a pair of glasses that's perfect for you, schedule an appointment with us today.